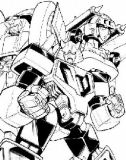 What's New?
(22-12-2004) More photos from the convention has been added here!
(20-11-2004) Photos of the Autobot Chainmaster toys have been added here! Photos of Minesweeper will be coming soon.
(07-11-2004) Australia's first Transformers convention has come and gone and was a smashing success! We were unable to print up any special packaging or tech spec cards for our exclusive toys, however you can view the background story and tech specs for the Autobot Chainmasters here!
Legal Disclaimer: The Transformers, names, distinctive likenesses thereof are trademarks of Hasbro Inc., and Takara Co., Ltd. The Sabretron Convention Project and all exclusive merchandise are unlicensed events/products created by fans for fans.